You can look at your Christmas lights with pride after we hang them on your home.
The holiday season is a magical time of the year across the globe. Millions of people celebrate Christmas, a holiday focused on family and giving gifts to loved ones. Many families have traditions that they enjoy during each holiday season, including putting up Christmas lights. But you may not know how that tradition started or how lights have become the popular additions to holiday décor that they are today.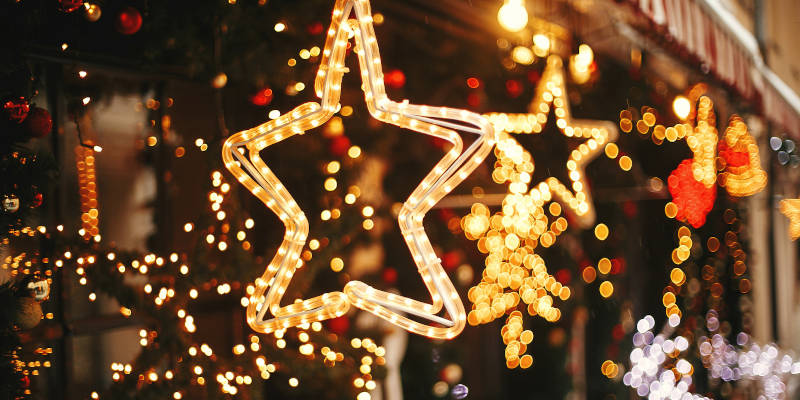 The History of Christmas Lights
During the 17th century, Germans often placed candles on their Christmas trees to celebrate Christmas. These candles were attached with pins or wax, keeping them firmly in place. They provided illumination for the ornaments placed on the tree as decorations. A few centuries later, an inventor created the candleholder, which became the chosen fixture to attach a candle to a Christmas tree.
The first Christmas tree to feature electric lights was in New York City. It featured red, white, and blue lights, and its popularity led to the creation of string lights. Although most people couldn't afford electric lights at first, department stores and other commercial businesses utilized string lights in their holiday window displays and decorations within their stores. Over the years, light manufacturers continued to improve upon this offering, making Christmas lights safer to use both indoors and outdoors.
The use of Christmas lights outdoors started in North America but draws inspiration from the lights that have been placed on trees for centuries. Nearly 100 years ago, some of the first bulbs designed for outdoor use became available. Designers continued to make their own versions of outdoor Christmas lights, adding unique elements and colors to help them stand out. Even during the Great Depression, novelty lights sold in droves as a way to help bring and spread holiday cheer during a difficult economic time.
Incorporating the Christmas Light Tradition at Your Home Today
Today, people love Christmas lights just as much as they did a hundred years ago. You might incorporate lights as part of your decorations that you put up in and around your home each year. But hanging lights on your home is challenging and can be dangerous. Instead of trying to handle this on your own, contact our team at Scout Softwash to hang lights on your Carlsbad, California home. We work with clients to provide this highly useful service, bringing holiday cheer to every property we serve.
You can look at your Christmas lights with pride after we hang them on your home. We offer a range of styles and colors, allowing you to select the lights that complement the look of your home while bringing the spirit you want for your living space. Many of our clients choose LED Christmas lights, which have skyrocketed in popularity in the recent past. These lights use less power than other types of lights while providing incredible illumination.
We Can Take the Stress Away from Hanging Christmas Lights
If you have questions about Christmas lights or would like to learn more about our installation services, don't hesitate to contact us. We're a trusted provider of exterior services, and prior to the holiday season, we're happy to use our knowledge and expertise to put up beautiful and appealing Christmas lights on our clients' homes.
Similar Services We Offer: